Here are some of our current Supporters, Funders and Partners:

Interested in our 2019 211 San Benito County Annual Report?  Click here.

2-1-1 is a resource for people who need help during tough times, but don't know where to start. A trained, caring professional will help you find options - 24 hours a day in 170+ languages. 211 is easy, convenient, confidential and free. We tailor our referrals to your individual needs.
2-1-1 can help you find:
Food, shelter and homeless services
Healthcare / Mental health counseling
Disaster response
Childcare
Disability services
Employment assistance
And so much more…….
Help Starts Here!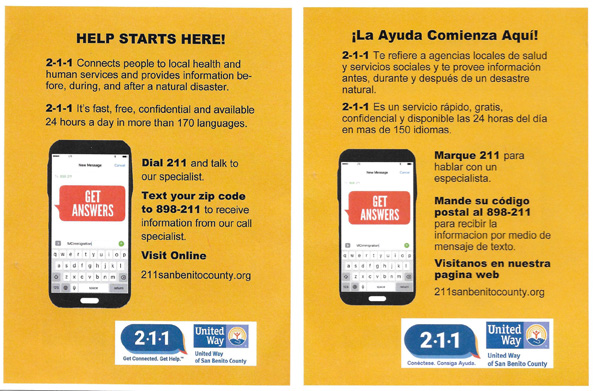 Current Partner Programs (2017-2020):
Click on links below to visit organization websites.